Best Mattress for Back Pain
When you first wake up in the morning, do you have back pain? Do you have a difficult time while setting up from your bed? You might not be sleeping on the right mattress.
If so, it is a sign that you should change your mattress. Because your current mattress may not be helping your back pain, which may be caused by  your regular activities. You may be searching and scrolling on google and YouTube like mattress for back pain or best mattress for back pain. Orthopedic mattresses are manufactured to reduce back pain and encourage quality sleep.
However, you should first understand what an orthopedic mattress is and how it helps to reduce back pain before you purchase one for yourself.
What Is An Orthopedic Mattress?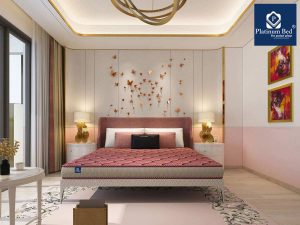 A medical term is orthopedic. It connects to the science of orthopedics, which focuses primarily on how the spine and other joints work. The diagnosis and treatment of orthopedic problems that affect the bones, joints, muscles, nerves, and skeletal muscle is helped by orthopedic specialists.
An orthopedic mattress, or orthopedic mattress to our Indian families, is a mattress designed to provide a firmer sleeping surface and give your back and joints specific support. As the advantages of orthopedic support become known, manufacturers designed the first orthopedic mattresses in the 1950s.
People with back pains frequently use orthopedic mattresses. But orthopedic mattresses have changed over time to give benefits for treating back pain.
Benefits Of Orthopedic Mattress
Your body benefits from orthopedic mattresses in various ways. It improves and enhances your sleep, helps ease any pain in your body, and makes it simpler for your muscles to recover. Additionally, an orthopedic mattress helps you maintain proper spinal alignment, improves your back muscles, and improves your posture.
Here are some more unique benefits of orthopedic mattresses that take your orthopedic needs into consideration. These factors are just a small sample of the many benefits of buying an orthopedic mattress.
1) An orthopedic mattress reduces uncomfortable back pain
You believed that your relationship with your back discomfort would last the longest. A firm mattress especially made for orthopedics is used to reduce pressure on the joints. These mattresses can reduce aches and pains or discomfort of any type by reducing the spine from bending unnaturally while we sleep thanks to technological advances like memory foam, bonded foam, HD foam, etc. Platinum Bed Dual Comfort Ortho mattress of Orthopedic Mattress is our choice for the best orthopedic mattress for back pain.
2) Improves Quality Sleep
Even if you don't struggle from body aches and discomforts, orthopedic mattresses promise to make your time in bed a pleasurable one. Finding that sweet spot sometimes requires a lot of twisting and tossing because the pain you experience when you wake up in the morning can be so continuous. Better sleep is therefore one of the main orthopedic mattress for back pain advantages.
3) Lasts longer duration than the regular ones
You benefit from the durability of an orthopedic mattress for back pain. Yes, an ortho mattress lasts longer than a standard mattress does. Additionally, it resists impact, repeated use, wear and tear, etc. easily.
4) Keep hygiene
Mattresses have a habit of lasting a very long time. But the majority don't stay healthy. However, orthopedic mattresses will support you for many years. They are made to maintain the best possible health of your back and do not sag over time.
A quality orthopedic mattress is necessary for keeping top-notch hygiene. In other words, they don't require any particular maintenance to keep bed mites away. It is quite easy to maintain and doesn't collect dust. Better, buy a mattress cover made of a duvet to keep even those away.
The Orthopedic Mattress has two covers. The outer cover can be taken off and washed, while the inner cover is affixed to the mattress permanently. Both sides can use it. Yes, it can be applied to both sides. But we advise using the white side if you want to experience the full benefits of an orthopedic mattress. You can buy an orthopedic mattress online at a very affordable price as compared to local markets.
5) A irritable partner is no longer a problem (at least in bed)
Have a bed mate that frequently tosses and turns? The best motion absorption feature is provided by the orthopedic foam mattress from Platinum Bed Dual Comfort Ortho Bond mattress. Its designed in such a way to prevent motion transfer.
As a result, you won't be disturbed by your partner moving around in mattress.
6) After years of use, there is no creaking or squeaking (without abuse)
After just a few years of use, spring mattresses are famous for creaking and squeaking. Because of this, orthopedic bed mattresses are considered to be the best. Latex, Memory foam, HD foam can be used as the top layer on even orthopedic mattresses.
Age-related comfort loss should not be a concern with a Platinum Bed Orthopedic mattress. However, you must be careful not to treat it harshly.
7) Maximum Support for Bone and Muscle
Keeping your back straight on a standard mattress is not a smart idea. They miss the system that gives your body the most support possible. Additionally, it doesn't simply affect your back. In reality, your nearby muscles are also being ignored. Overall, it makes it more difficult for your body to remain healthy.
You benefit from the orthopedic mattress in this situation. It provides whole back support and has a great effect on the muscles in your surrounding area. It maintains the proper alignment and shape of your bones as a result.
8) Continues to spread your Weight Equally
You'll understand the effectiveness of orthopedic mattresses when you sleep on one because it properly distributes your weight. As a result, you don't experience any pressure on your hips, neck, or back, for example. Your body automatically relaxes, enabling you to fall asleep soundly.
9) Relieve your Stress
The most stressed area of your lower back is your lumber, especially in this era of widespread work-from-home employment. A regular mattress only makes the situation worse. Because they are designed ergonomically for pain alleviation, orthopedic mattresses are good for the health of your back and spine. What differentiates ortho mattresses from regular ones on the market is their excellent support for the lower back.
10) Good body posture
Being aware of our posture, attention, and awareness are all lost when we sleep. What we don't realise is that our careless sleeping positions can damage our overall health and put us at risk for joint problems, neck and shoulder pain, and back pain. When it comes to spine and posture alignment, orthopedic mattresses are the ideal solution, enabling us to sleep soundly without thinking about your body posture.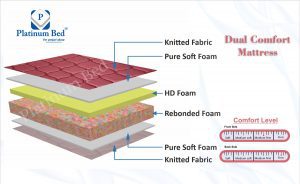 The Material Used For Orthopedic Mattresses
While several of these components are frequently used to create orthopedic mattresses, not all orthopedic mattresses contain all of them. For instance, some mattresses may be made of Bonded foam, Memory foam, latex, or Bonnell Springs, while others may not.
If you require greater softness and breathability, use memory foam, latex, and Bonnell Springs. 
Foam memory
One of the most famous and decided to seek types of foam is memory foam, which is known for its soft comfort and high density support. While supporting your body, memory foam molds itself. You also receive low moisture absorption for your lighter parts and sinking space for your pressure points when you sleep on orthopedic memory foam.
Bonded Foam
A bonded foam mattress is manufactured using bonded foam. PUF scraps or polyurethane foam are bonded together under high pressure to create a strong composite. Additionally, this substance works as the base layer in mattresses, which keeps them in good condition with time.
HR Foam
High-resilient foam (HR foam), also referred to as HR foam, improves breathability, smoothness, weight distribution, and comfort levels for the body. Therefore promoting better sleep and pressure management.
Latex Foam
Natural and organic materials includes latex. Natural latex offers support, comfort, and appropriate measure spinal alignment. The best alternative therefore for back pain prevention and pressure reduction.
Spring Mattress
The two types of springs utilised in mattresses are Bonnell Springs and Pocket Springs. These two springs function differently. A strong metal wire connects the bonnell springs to create a structure that provides uniform support and improved air circulation. Pocket Springs, on the other hand, are packaged individually in a fabric pocket and they are softer in comparison with bonnell spring mattresses.
The Art of Choosing the Best Mattress for Back Pain
Here are the essential characteristics to watch out for when choosing a mattress: –
Firmness Level
People with back problems are often recommended to choose a mattress that is firm to medium firm. By properly distributing the body's weight, it provides the body adequate support, including for the spinal alignment. This in turn can promote a peaceful night's sleep.
Supporting back support
The majority of mattresses are designed to support the body while sleeping. The natural curves of the body, particularly the alignment of the spine, are frequently supported by all those made specially for chronic back pain. In addition, they are available in a variety of materials, like memory foam, innerspring, etc., to reduce any discomfort experienced while sleeping.
Your sleeping position
The best type of mattress for back pain with adequate support depends on your sleeping posture. There are numerous ways to sleep, and there are different mattresses for each position. Back sleepers require strong, firm support, while side sleepers need a slightly softer mattress. Similarly, side sleepers need a moderately firm support that raises their lower back to ensure proper posture while they are asleep.
Your medical status
Back pain can have many different causes. Therefore, before looking for the best kind of mattress for back pain and other similar issues, we advise going to the doctor first to address the underlying problems. In addition to recommending a quality mattress, your doctor may suggest exercise to assist treat the issue.